The MILANO from GROSCHE is a classic Italian stovetop espresso maker, also called Moka pot. It's perfect for anyone who loves the taste of a strong shot or double shot of espresso. Compared to filter coffee makers, this brewing method extracts more caffeine and flavours. This gives stovetop espresso a stronger and richer brew than a percolator. The MILANO stovetop espresso maker will make your espresso experience perfect every time.
FEATURES:



Available in 3 Sizes




Ideal for Glass Induction stovetops, gas, camping, or electric coil stoves.




Most durable Stainless Steel with premium matte speckle black top




Stainless Steel handle and Italian Safety Valve



Available in 6 cup/9.3 oz and our largest 10 cup/16.9 oz


Every Milano Steel sold provides 50+ days of safe drinking water


--
The safest stovetop espresso maker on the market
The MILANO Moka pot is made from food safe aluminium a non-toxic silicon gasket seal.  You can use it on all gas and electric stovetops, it is however not suitable for induction stovetops. The MILANO is the only coffee percolator that features a burn guard on the grip to protect your fingers from touching hot surfaces. In addition, it also features a 'Made in Italy' certified safety valve that prevents internal pressure from increasing to a dangerous point.
Soft touch handle

The handle of the Milano moka coffee maker is soft to touch & features a burn guard to protect your finger from accidentally touching a hot pot.
Food grade Aluminium

The Milano moka pot coffee maker is high polished for a nice sheen. Also, the threads that connect the top and bottom are made for a tight seal and long life.
Italian Safety Valve

Each pot is a pressure vessel and should be handled with care. That's why we only use Italian Safety relief valves in the Milano moka espresso makers.
How to make a stovetop espresso


Firstly remove the top part and the filter funnel of the coffee maker and fill the lower part with cold fresh water. Make sure not to fill past the safety valve.


Then fill the filter funnel with freshly fine ground espresso coffee. Once that's done, put the filter funnel back into the lower part of the MILANO and screw the top part back on. We recommend the Smooth silver espresso as our favorite coffee for the Milano making Italian style moka coffee.


Next, put the MILANO on your stove on a low flame setting. Turn the stove down when coffee bubbles up from the filter funnel and into the upper section. The gurgling sound will have stopped indicating the coffee is ready


Finally, remove the MILANO from your stovetop and serve. You can drink the coffee as a strong, flavourful espresso or use as a base for a cappuccino.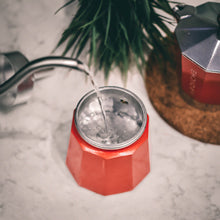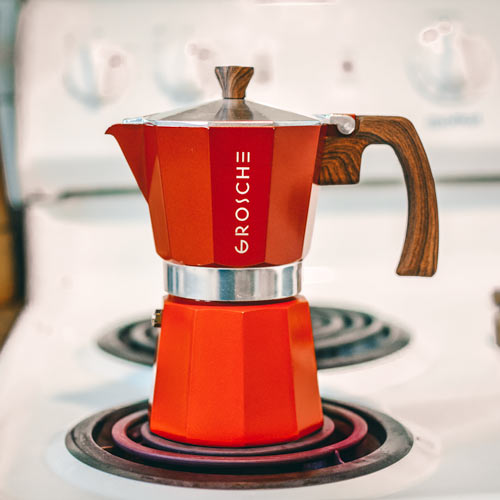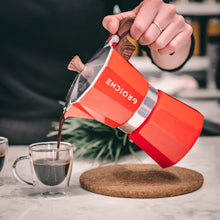 What is Italian coffee?
Their love of coffee is something that Italians are known for. In Italy, the most popular way of brewing coffee is in a Italian stovetop espresso maker or Moka pot. While espresso that is purchased in a cafe here is often made in a high pressure machine that runs at around 15 bars of pressure, stovetop espresso makers work with low pressure.
Safe for many stovetops!
The Milano 
stovetop espresso maker
 is safe for many kinds of stove tops like: Electric coil, electric glass top, gas stoves, propane, or camping stoves as well. Unfortunately, because this espresso maker is made of alluminum, it 
can not be used with induction stoves
.
How to care for your Moka pot
They say the older these pots are, the better they work. They can last a lifetime with proper care. Always hand wash them, and never put them in the dishwasher. In a dishwasher the aluminium will tarnish and turn black. Every 3-6 months or so you should consider changing the silicone seal that is in the pots and the one that maintains pressure in the boiler section to brew the fine ground coffee.
Sizes of a Stovetop espresso pot
The Milano Espresso stove top coffee maker comes in five sizes: 1 cup, 3 cup, 6 cup, 9 cup & 12 cup. But the cup sizes are espresso cups, and not common north American coffee mugs . The actual capacity of the espresso makers is :
1 cup is 45 ml or 1.5 fl. oz | 3 cup is 150 ml or 5 fl. oz. | 6 cup is 275 ml or 9.3 fl. oz.
Perfect for Camping as well!
This Moka Pot coffee maker is also perfect for taking camping. To do so you should take a manual coffee grinder like the 
Bremen
 with you as well. You can put it on a camping stove and brew a delicious cup of Moka Coffee on the go. Simply rinse out to clean and you're all set. For the cottage or the campsite, this is a wonderful way to brew.